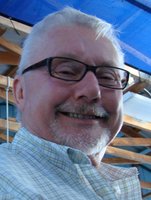 Daniel Clayton "Dan" Havens
It is with heavy hearts we announce the passing of our husband, dad, grandpa, father-in-law, brother, uncle, and friend Daniel Clayton Havens in the early morning hours of Thursday, September 24, 2020, after a long struggle with ALS.
Born to Duncan Lee Havens and Maisie Irene Havens on August 20, 1950 in Chemainus B.C., Dan was the third of five children growing-up in Drumheller, Alberta. When he was 16 years old, he joined the Canadian Armed Forces with the Royal Electrical Mechanical Engineers. After four years he returned to Drumheller to complete grade 12 where he met the love of his life, Sherri in February 1971, and married February 5, 1972.
Dan had many jobs over the years, including working in many schools from Kimberley to Cranbrook where he made many friends. Although Dan worked hard at every job, he poured everything he had into his last retirement job at St. Mary's School. St. Mary's school held a special place in his heart for the fond memories and special friends that became family. While not working at a school Dan could be found at the Legion, camping, shooting, or visiting with all his friends. One of his favourite places to be was at Rock Lake relaxing and reading a good book in his lawn chair.
Dan is survived by his wife of 48 years Sherri Havens, and children Jason (Cari), Michele (Brian), Duncan (Lindsay), grandchildren Jordan, Taylor, Calem, Nash, Beckett, Cameron, and Brody. He is also survived by his siblings Leona, Sally (Tom), Ann (Shane) and Jamie (Kathy).
Dan was predeceased by his parents Duncan and Maisie, father-in-law Alfred, brother-in-law Fred, sister-in-law Violet, and great-niece Chrissy.
Dan was always taking courses, taking on side projects, and reading books to better himself, now he is onto his next project and journey.
A Celebration of Life will be held at a later date.
In lieu of flowers, donations to St. Mary's school or Legion Branch No. 24 are greatly appreciated.
Arrangements entrusted to McPherson Funeral Services.
Condolences for the family can be offered at:
www.mcphersonfh.com