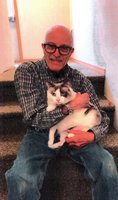 Richard Stanley Henry "Dick" Burgett
April 5, 1941 - February 18, 2021
Dick Burgett passed away at the East Kootenay Regional Hospital on Friday, February 18, 2021. We grieve our loss, while rejoicing in a life well lived.
Dick was born in Edmonton, Alberta. He was a witty and intelligent man, who spent his life laughing and learning. In grade 9, he received the Governor General Award for the highest scholastic achievement in Alberta. After graduating from Salisbury High School, he attended the University of Alberta Faculty of Engineering. In 1961 he married Dianna Smith. While he was raising his family, Dick worked in Clover Bar, AB and Port Mellon, B.C., in the instrument trade. He also worked toward a B.Ed. Degree, teaching Industrial Arts. Dick began his career as an Instrument Mechanic in Prince Rupert before moving to Cranbrook and working at Skookumchuk Pulp Mill until his retirement in 2002. In his free time Dick was a Commissioned Lieutenant in the Reserve Service (Air Cadet Leader) and was a Journeyman Watch Maker. In 1994 he married Pamela Stapleton and they settled in Marysville. Dick volunteered for CASARA (Civil Air Search and Rescue) and loved to fly as a spotter. As an A.C.T member, he sported caveman attire and showed off his "chicken legs" at every parade. "Tricky-Dicky" enjoyed hunting, fishing, camping, sailing, rock collecting, playing cards, and "cutting the rug" boy could he jig and jive! Dick was the guy you heard yelling "Yee-Haw!" He loved to travel and made trips to the USA and across Canada to Newfoundland. He loved the East Coast so much that he returned to work on the Sea Rose F.P.S.O offshore oilfield service ship. After retirement, he moved to Burstall, SK and then to Kitchener, B.C., before finally living in Kimberley's Kimbrook Manor. It was there that Dick was blessed to meet many new friends, especially Sheila Lecomte, who became his best friend and companion, to the end of his days. Dick was always a positive and fun person, who was loved, enjoyed, and respected by everyone. He was sincere, conscientious, and reliable. He was deeply spiritual and an active member of his church. Every stranger was a friend he hadn't met yet… Dick was always kind and generous to the less fortunate. We loved our sweet natured, gentle, sentimental, cheerful, and goofy father with all our hearts and will miss him profoundly.
He is survived by his sister Mary Burgett (Michael Conway- Brown), daughters, Susanne Pighin (Raymond), Shirley Diebold (Brian), Mary Burgett (Rob Shaffer), Linda Habekost (Brian), nieces Angela Milner (Darcy Barnes), Rebecca Sims (Kai) and numerous cousins, grandnieces and nephews, grandchildren Jessica Sorensen (Jonathan), Christa Schenk (John), Teresa Diebold, Karl Diebold, Chels Burgett (Natasha) and Katherine Wojtun, great grand children Oliver & Astrid Sorensen, Jay Schenk, Calvin, Amelia & Sophia Burgett, best friends Ralph Cervo and Sheila Lecomte, and Puddy-Tat "Boots."
Dick was predeceased by his parents Edward & Edith Burgett, brother William "Billy" Burgett and his wife Pamela Burgett.
Arrangements entrusted to McPherson Funeral Services.
Condolences for the family can be offered at:
www.mcphersonfh.com