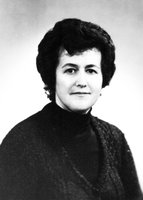 Giuseppina "Pina" Dalcanale
1934 - 2021
It is with sad hearts we announce the passing of Giuseppina "Pina" Dalcanale on March 16, 2021 at the age of 86.

Pina was born in her beloved Terracina, Italy in 1934. She immigrated to Salmo, B.C., in 1968 and relocated to Cranbrook in 1981. From a young age, she took on the occupation of seamstress and made many amazing clothes and dresses over the years.
Pina's passion was gardening. She could be found in Spring, Summer, or Fall outside in her large vegetable garden, tending to her tomatoes, beans, and peas! She also loved using all her homegrown vegetables to create authentic Italian cuisine; everything from homemade lasagna to the pizza that all the neighborhood kids loved. Her unique personality would let you know where you stood with her. She liked you or she didn't, it was black or white. Giuseppina would like to remind everyone that she doesn't like onions!

Pina is survived by her sister, Giuliana Parisella of Terracina, Italy, and her son, Paul Dalcanale of Cranbrook, B.C.
She was predeceased by her husband Renato, her sister Vera, and her two brothers Silviano and Fedele.


"To plant a garden is to believe in tomorrow." – Audrey Hepburn

There will be a private family service on Friday, March 26th at 1:00 pm. If you would like to take part virtually, please go onto McPherson Funeral Services website www.mcphersonfh.com and click LIVE SERVICES at the top.

In lieu of flowers, donations may be made to the Alzheimer Society of Canada. https://support.alzheimer.ca/
Arrangements entrusted to McPherson Funeral Services.
Condolences for the family can be offered at:
www.mcphersonfh.com