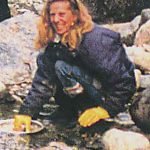 Roberta Lorraine "Bobbie" Heuscher
On April 14, 2021, Roberta "Bobbie" Heuscher, loving mother and proud granny left us at the age of 77.
Many knew Bobbie from her extensive work history in the Columbia Valley, mainly from Brother John's and Bobbie's Café.
She was a proud and passionate business owner in the Columbia Valley. She was a champion of the underdog and not afraid to call out the bullies and put them in their place. Her logo was the lady with a gun, for a reason. She swore like a trucker, smoked like a train and loved liked each day mattered. Her pride and joy were her grandsons, Ian and Ward Fenton. She taught them to light fires, split wood and knives cut sharp. Many band aides were the boys medals of honour from the day spent with Gran. She loved them ferociously. Bobbie loved to garden, pan gold, paint and explore the artist that was her.
She is survived by her daughter, Deborah Lee, son Vince Beyette, her grandsons Ian, Ward and Pierce and a small circle of family members.
Arrangements entrusted to McPherson Funeral Services.
Condolences for the family can be offered at:
www.mcphersonfh.com