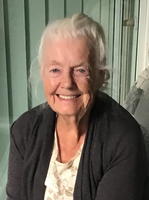 Viola Marie "Vi" Pelto
October 18, 1930 - September 25, 2021
It was a lovely sunny morning when we said goodbye to our beautiful Mom. Viola passed on Saturday, September 25th, 2021, in the comfort of her home, surrounded by family.
Vi was born in Swift Current, Saskatchewan, "Speedy Creek" as she called it, and in her early 20's her adventurous spirit brought her west to Kimberley. She worked for a short time at the Home Inn Cafe before she got on with a great crew at BC Tel. She boarded with the Pohl family during this time, and they became like family. "Bilola", as they called her, would always hold them dear to her heart. Vi loved to dance and was amazing at the jitterbug. Mom said the mountains made her claustrophobic when she first arrived in Kimberley, but soon she loved to roam those mountains, always with one of her dogs. Her love for adventure also took her and Dad travelling to many places around the world. In recent years Mom loved nothing more than spending time with her beloved dog Koda. She loved to sit in the sunshine, go for a long drive around town or spend an afternoon at the lake watching her Koda play in the water. We could go on for pages about how amazing Mom was. She was beautiful, stylish, kind, friendly, compassionate, and joyful. She loved her family and always did everything she could for them.
Vi is reunited with family that has gone ahead of her, siblings Audrey, Maurice and Julius, parents Mary & Peter, son Curtis, grandson Brandon and brother-in-laws Cam and Mac.
She leaves with precious memories her husband of 63 years Elmer, sister-in-laws Laura, Rose and Helen, son Clayton (Darlene), daughters Jodine (John), Jenniffer and Gretchen, and grandkids Zack, Jaxon, Angelica, and Jayla.
She will be dearly missed and forever in our hearts.
We would like to thank Dr. Buddo, the Palliative Care Nursing team and the Community Care Aids that took such great care of Mom during her final days. We can't say enough about how outstanding they are. If you would like to honour Vi, please brighten someone's day with a bouquet of flowers.
Arrangements entrusted to McPherson Funeral Services.
Condolences for the family can be offered at:
www.mcphersonfh.com