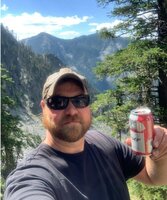 Daniel James "Dan" Shaw
June 23, 1973 – November 3, 2021
"You can't put a price on fun"
This was Dan's motto for his entire life. His happy go lucky nature, infectious laugh and hard working attitude is what makes this amazing guy so memorable. Dan was all about living his life to the fullest, whether it be at work, at home, fishing with his kids or driving around the bush with his wife, Christie. He never left one stone unturned or one beer uncracked. When Dan walked into a room it was filled with his presence and he passed this characteristic along to his two amazing children, Danica and Colton. Both Danica and Colton possess Dan's contagious humour and big heart…and a tiny bit of his stubbornness to get the job done no matter what. One of Dan's favourite things to do was hunt and fish with his family and friends, whether it be local or up north sheep hunting. Dan and Joe, Dan's father in law, spent countless hours bossing Christie around getting fire wood for friends and family. The hours Dan spent with his brother, John, and sister-in-law, Joan, down in Eureka, reaking havoc and drinking beer at the Rexford Pub were too many to count. The absolute favourite past time of Dan's was the many hours spent at his favourite place, Sean and Miranda's shop, laughing, joking and telling stories.
Born in Chemainus, B.C., and raised in Cranbrook, Dan could not walk down the street without knowing many who walked by. He was the guy who everyone could count on, whether at home or work. He was the guy who loved with everything and was the person you could count on no matter what. He lived his life like there was no tomorrow.
Dan's memory will be kept alive by our stories of his funny, couragious antics and in the lives of his wife and children.
There will be a gathering held outside for friends and family in behind the rod and gun club by the archery range between Cranbrook and Fort Steele on Saturday Nov. 20, 2021 from 2pm to 6pm. This is a drop in basis – please bring 'Dan' stories to share with his family.
Christie, Colton and Danica are requesting in Lieu of flowers please send any donations to the East Kootenay Foundation for Health.
Arrangements entrusted to McPherson Funeral Services.
Condolences for the family can be offered at:
www.mcphersonfh.com