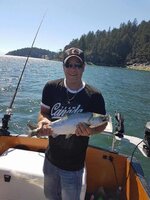 Clayton "Clay" James Tanner
March 30, 1979 – November 17, 2021
Clay Tanner, a resident (and the mayor of) Skookumchuk, B.C., passed away suddenly at his home on November 17, 2021.
Clay was born and raised in Kimberley, B.C., where he attended primary school and Selkirk Secondary High School. During this time Clay developed a love of repairing all things mechanical as well as woodworking. Throughout his adult life he pursued many of his passions such as building houses, trucking, and perhaps his favourite, running his own sawmill with hopes of pursuing his pilot's licence. Clay enjoyed the many lifestyle amenities the Kootenays had to offer including camping, hunting, fishing, and boating.
In 2007 Clay met the love of his life Joanne. In 2009 Joanne brought home the puppy Clay never knew he wanted Calvin (Wudzes) James. In 2011 Clay and Joanne were married among family and friends and have since been building their life together in Skookumchuk.
Clay was predeceased by his mother Kathie Tanner.
He is survived by his wife Joanne Tanner, father Tim Tanner, brother Ben Tanner (Ashley), nephew Emerson Tanner, niece Emilia Tanner, as well as many aunts, uncles, cousins, and friends.
Clay touched the lives of many people and will be dearly missed by all who knew him.
A Celebration of Life will be held Saturday, November 27, 2021, at 1:00 pm at his home in Skookumchuk, B.C.
Arrangements entrusted to McPherson Funeral Services.
Condolences for the family can be offered at:
www.mcphersonfh.com