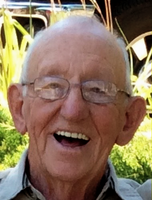 Keith Andrew McCormack
September 17, 1936 - November 28, 2021
Keith was born in Stockport, England and enjoyed his career as an electrician from the time that he was 15 years old. He brought his family to Calgary, Alberta in 1967. After many years in the big city, he moved his family to Cochrane, Alberta to try his hand at hobby farming with a variety of different animals. Retiring early, Keith and Dorothy moved to Creston, B.C., in 1986, where they tried their hand at farming fruits and vegetables. Keith enjoyed soccer, golfing, and spending time outdoors. He loved chatting with people and was always eager to try new things with his zest for life.
Keith will be remembered as a very kind and compassionate person.
He is survived by his wife Dorothy (Mills) and four children, Andrew (Sandy) McCormack, Julie McCormack, Christine (Rick) Ramchuk, and Debra (Gordon) Chudleigh, six grandchildren and three great grandchildren.
Keith was predeceased by his mother and father, Isabella and William McCormick of Stockport, England, along with his three sisters and five brothers.
In lieu of flowers, the family requests donations to the Canadian Diabetes Association. https://www.diabetes.ca/
Arrangements entrusted to McPherson Funeral Services.
Condolences for the family can be offered at:
www.mcphersonfh.com