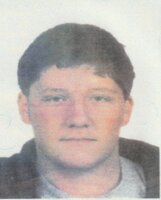 Derrick Braun
It Is with heavy hearts that we announce the sudden passing of Derrick Braun on December 14th, 2021 at the age of 31.
Remembering Derrick, be sure to think of the good times. An amazing and caring Son, Brother, & Grandson. Mom and family cherish his strong hugs, in heart-filled memory. His laughter, kindness and big heart with open arms to others in need will be never be forgotten by many. A very intelligent young man, Derrick enjoyed reading, architecture, gaming, welding and many more productive endeavours.
Derrick left behind his loving family members, Karen Abbey (Mom), younger sister Shaleen Braun, Tom Braun (Father), grandparents Alfred & Erika Braun, grandparents Norm & Dora Sewell, cousins, aunts & uncles.....Any Many Caring Friends!!
Unfortunately the system failed and disregarded him when he reached out for help, several times!! Clearly harm reduction is not the answer!!. Love, Compassion, Support and Understanding can work with the help of readily available resources, and Affirmative law enforcement is the Answer!!!
As loved ones mourn, we would like to thank everyone for their kind words of condolences and support. And send heartfelt thoughts to all families with mental health and addiction issues. In lieu of flowers, memorial donations can be made in Derricks name to Canadian Mental Health Association, East Kootenays Branch.
Derrick will be missed and loved by many but never forgotten.