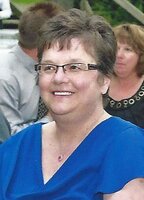 Cheryl Louise Zoethout
A Memorial Picnic for Cheryl will be held on Saturday, July 2nd at Wycliffe Regional Park- Area 2; Gathering to begin at 11:30 AM and any family or friends that wish to share their memories of Cheryl are most welcome to do so and are greatly appreciated.
Cheryl Louise Zoethout, born March 24th, 1952, in Edmonton, Alberta, passed away in the early hours on December 29th,2021 at EKRH in Cranbrook.
Cheryl had a knack for starting fun traditions with family & friends and made even small gatherings feel like little parties. She always enjoyed going out with her husband, Hank and dog, Lucy no matter the destination. Cheryl loved spending time with her grandchildren going out or staying in baking and doing crafty projects. Cheryl was a giving person that was so proud of her family, loved animals, knitting, creating in the kitchen, watching her afternoon soaps, and listening to music. Cheryl and her family lived in several areas of Alberta & B.C., over the years with a final destination of Cranbrook. She spent many of the 30+ years there volunteering her extra time in the community.
Even though Cheryl struggled throughout most of her life with health concerns, she always tried to find the positive and push through with amazing resilience. Her family is deeply grateful for the comfort they take in knowing that her strong faith has brought her peace in the arms of the Lord surrounded by her family & friends that were waiting to meet her.
Cheryl was predeceased by her mother & father, Bernice & Paul Bishop.
She leaves behind her husband of almost 52 years, Hendrik (Hank), daughter Leanna (Shawn & 3 children), son Scott (Chantelle & 2 children) and sisters, Marlene & Cindy (Barry).
The family sends a sincere thank you to the staff and Doctors at EKRH, staff with IH Home Support and Mental Health Teams and the BCAS staff that helped Cheryl over the years and particularly over the past year.
Arrangements entrusted to McPherson Funeral Services.
Condolences for the family can be offered at:
www.mcphersonfh.com