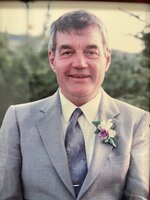 Charles Armand "Chuck" Chenuz
1935 - 2022
Charles Armand Chenuz "Chuck" began his life's journey on the 16th of January in 1935 at the old Cranbrook, B.C., Hospital. To the devastation of us all, his journey ended peacefully on the 21st of February 2022 at the age of 87, in the dream home he and his wife of 65 years, Shirley Fern Chenuz, built together in Cranbrook.
Chuck's father and mother, Gaston Armand, and Marcelle Julia Chenuz, were new immigrants to Canada coming from the canton of Vaude, Switzerland. They were settling on an acreage at Skookumchuk, B.C., when unexpectedly, Gaston passed away when Chuck was all but 11 months old. Consequently, his mother and sisters (Therese and Marcelle) were forced to resettle in Marysville, B.C.
Chuck joined the Royal Canadian Air Force in 1952 and served as a jet mechanic on the Sabre aircraft in France and Northern Africa. On his return home from service, he worked at Kimberley in mining operations for several years before turning his attention to his former trade. He obtained his Heavy-Duty Mechanics license and worked for many years at John Deere and taught other mechanics in the Cranbrook area. As a result of many injuries he suffered, he ended his working career as a security guard at Fort Steele. He loved working at the "Fort", and he told many stories about the animals, tourists, and ghosts.
Chuck was a man of many talents. He was a master of many skills. As well as being an extremely competent mechanic, he was a very skilled carpenter, luthier, artist, fly fisherman, and an accomplished musician. As a luthier, following in his father's footsteps, he built and repaired numerous violins and other stringed instruments. The craftmanship and detail of his work was remarkable.
Music was one of the highlights of his life and anyone who knew Chuck will have fond memories of his piano and accordion playing with his musical friends at the many dances and weddings in the Kimberley/Marysville area.
Chuck loved and was loved by many people. We will all miss him dearly and feel he is in the arms of his mother and will finally meet the father that life did not allow him to know.
You're forever in our hearts.
Chuck is survived by his loving wife Shirley, who he married in 1957, his 5 children: Craig (Louise), Shelly (Jack), Kurt (Sandra), Robert (Janet), Bart (Dale), his two sisters Therese Kahl and Marcelle Wickes, many grandchildren, great grandchildren, nieces, and nephews. Chuck was very proud of all his children and felt honoured and proud to have raised such a successful and loving family.
Arrangements entrusted to McPherson Funeral Services.
Condolences for the family can be offered at:
www.mcphersonfh.com