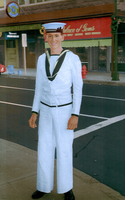 Harry Ruppel
May 12, 1931 – February 25, 2022
Harry Ruppel, beloved father, grandfather, and great-grandfather, passed away on February 25, 2022, at the East Kootenay Regional Hospital after a fall at home. He was 90 years of age.
Harry was born on May 12, 1931, in Shellmouth, Manitoba to Henry and Maria (Mickel) Ruppel. Harry served in the Canadian Navy from 1951 to 1973 and retired as a Warrant Officer. Military medals he received include the following: Korean, United Nations, Centennial and Canadian Forces Decoration. Harry served in the Korean War on board both the Athabaskan and the Crusader. Harry was selected to serve on board the Royal Yacht HMS Britannia in 1964. In addition to serving in the Miliary, Harry worked for the RCMP from 1973-1981 as a civilian member.
Harry was predeceased by his parents Henry and Maria, his wife Shirley, brothers Aron and Egon, his sisters Cilvia and Elly, and his grandson Lyndon Boisselle.
He is survived by his four daughters, Julianne Ruppel Foster (Jack), Tracy Ruppel Boisselle (Paul), Corinne Ruppel Jarman (Larry) and Allison Ruppel, 18 grandchildren and 22 great grandchildren.
There will be no formal services.
Arrangements entrusted to McPherson Funeral Services.
Condolences for the family can be offered at:
www.mcphersonfh.com