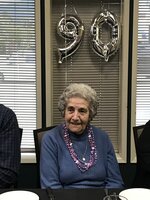 Monica Bernava
It is with great sorrow that we announce the passing of Monica Bernava, who passed away peacefully on April 15th 2022 while in care at the FW Green Home with her son and daughter in-law by her side. Monica was the youngest of three children born in Valvasone, Italy on September 18, 1929. Monica had very fond memories of her youth and could retell her many stories with amazing detail.
Monica met Gino, her beloved husband and they married on April 23rd 1960 then immigrated to Cranbrook to start their life together.
Monica had a very positive outlook on life, she was a detail oriented, organized, thoughtful, social person, who was a friend to all she met. Monica enjoyed travelling with Gino and their weekly Sunday drives to Fairmont. In her spare time she could be found tending to her flowers, participating in the local bowling league, the CP Pensioner's Club and volunteering with the Colombo Ladies Auxiliary where she was known for using her love of poetry and theatre in their yearly "Carnivale" parties. Sunday mass and events at Christ the Servant were a must for her as well.
Monica was well known for her love of sweets, coffee, tea and visiting with her friends and she always had a kind word for all. She loved her family and friends and never forgot a birthday or anniversary. In her own words she said, "sono stata fortunate l'affetto dei miei cari non mi ha mancato mai durante la mia vita. Cosa si puo chiedere di piu??? Moglie-Mamma-Suocera-Nonna. Mandi, mandi, stimi ben!"
She will be dearly missed.
We would like to extend a sincere thanks to family and friends for making Monica part of your lives. It was comforting for us to know she had such a great support system. We would also like to thank the staff at the FW Green Home for their care, compassion and friendship during her stay.
Monica is survived by her son Luigi, (Rosetta) grandsons, Robert (Madisen) and Adrian and several nieces and nephews in Ontario and Italy.
A Prayer Service will take place at 7:00 pm, Thursday, April 21, 2022 at McPherson Funeral Home Chapel.
The Funeral Mass will be at 11:00 am, Friday, April 22, 2022, at Christ The Servant Parish in Cranbrook.
No flowers by request, memorial donations may be made to the Heart and Stroke Foundation, or to a charity of your choice.
McPherson Funeral Services in care of arrangements. Condolences for the family can be offered at: www.mcphersonfh.com