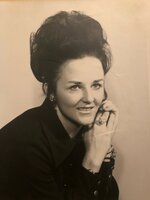 Doreen Lorraine Migneault
November 18, 1945-April 13, 2022
It is with great sadness that we announce the passing of Doreen Migneault on April 13th, 2022 in Cranbrook, BC. Doreen was born to Ethel and Roland Migneault on November 18th, 1945 in Gull Lake, Saskatchewan.
Doreen was known for her kind and generous nature and was always willing to help friends and family in any way she could.
Her caring spirit will not be forgotten by those who knew and loved her. Doreen was also known for her outfits, always accompanied by a matching hat- and don't forget the lipstick.
She was a true lover of animals, and we know she will be so happy to see her beloved dog Princess again. As a devout Catholic Doreen could always be found watching Mass on the television every day, with rosary in hand.
Doreen is survived by her daughter Ashley Migneault, brother Richard (Carol) Migneault, brother-in-law Bill Martin, her nieces and nephews Sherri (Tim) Nelson and children Kayleigh, Dayton, and Tianna, Nadene (Albert) Van Hoek and children Taryn and Sarah,
Brad (Delanie) Martin and children Chris and Justin, and Shelly (Shane) Comstock and children Tom and Chris.
Doreen is predeceased by her parents Ethel and Roland Migneault, her sister Marian Martin, and her nephew Kenneth Migneault.
She will be dearly missed by all.