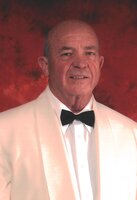 Eugene (Gene) Earl Jaster
October 14th, 1940- April 16th, 2022
It is with great sorrow that we announce the passing of Eugene (Gene) Earl Jaster of Cranbrook, BC on April 16th, 2022.
Gene led a full life and will be lovingly remembered by his friends and family for his passion for the game of golf and many treasured days spent downhill skiing during the winter months with his wife Renate.
Gene was a member of the Cranbrook Rotary Club and the Cranbrook Barbershoppers and loved to put his deep bass voice to use by singing in many local church and community choirs through the years.
A Chartered Accountant and Trustee in Bankruptcies by profession, Gene worked in Edmonton, AB during the earlier years of his career before
making the move to Cranbrook, BC to accept a position with a local CA Firm in 1979 where he remained until retirement.
Gene leaves to mourn his passing Mrs. Renate Jaster his devoted and loving wife of 60 years, sisters Carroll Blessin and Laurie James, brother Harvey (Evy) Jaster, son Greg (Linda) Jaster, daughter Wendy (Brad) Cummings,
grandson Ryan(Jen) Jaster and Brendan Jaster, grand daughters Megan (Tom) McNeely and Erica (James) Doherty and five great grand daughters Aya, Kirsten, Anora, Eliza, and Eliana.
Gene was predeceased by his parents Robert and Elsie Jaster, his brothers Ray, Marvin and David, and his sister Sharon.
A Celebration of Life will be held for Gene this upcoming summer. For those of you who wish to remember him you may do so by making a donation
to the Cranbrook S.P.C.A.