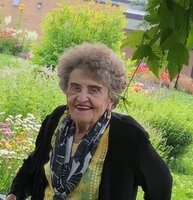 Alice June Snider
Alice passed away on July 16, 2022 at Invermere Columbia Garden Village with her family at her side. She will be lovingly remembered and missed by her family and friends.
Alice was born on March 13, 1928 in Blue Heron, Saskatchewan. She was the second daughter of three girls born to Esther and Ray Anderson. Alice attended a one room country school until her family moved to Prince Albert Saskatchewan. Later, she went to work in the coffee shop of the government building where she met her future husband, Mel Snider. They were married in Flin Flon, Manitoba where they raised their family before moving back to Prince Albert. Alice was an excellent home maker and loved gardening, canning, and sewing for her family.
The coffee pot was always hot, fresh bread and homemade soup was enjoyed by anyone popping over. All were welcomed into her kitchen and her love language was acts of service. She had a huge smile for everyone she greeted.
She was an active member of her church and always ready to lend a hand to all who were in need. She also loved dressing up for all occasions and did not think that a gal could possibly have too many clothes or shoes. She was known on a first name basis by the clerks in the shops at the mall.
Alice was predeceased by her parents Esther and Ray, Mel her husband of sixty-five years and her sisters Grace and Viola.
She is survived by her three daughters Eileen, Norma and Debbie, ten grandchildren, nine great grandchildren and two great, great grandchildren.
No service will be held at this time.