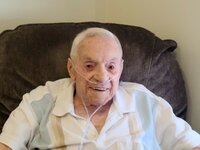 Bruno Giordano Marchi
Bruno Giordano Marchi of Cranbrook, B.C. passed away peacefully on July 15, 2022, at the age of 94.

Dad was born January 5, 1928, in Michel, B.C. to Rosa and Pietro Marchi. On April 11, 1953, he married the love of his life Itala Bertoia and together they had three daughters.

Dad worked at the Crowsnest Pass Coal Company for 12 years. On May 4, 1959, Mom and Dad, along with daughters Nadia and Rosanna, moved to Cranbrook. Dad was employed with the City of Cranbrook for 25 years, retiring in 1986.

Dad was a very hard worker with a strong work ethic which he instilled in his daughters. Dads priority was his family, always putting them first.
Dad enjoyed old time music and loved to go dancing with Mom at the Eagles Hall and the Columbo Lodge where they were both long standing members. The three daughters have vivid memories of their dad moving the coffee table out of the way in the living room and teaching them how to polka. Dad's passtimes also included playing bocci at the Columbo Lodge on Sundays and curling. One of mom and dads favorite travel destinations was Reno, where they would travel to by bus with friends.

Dad was predeceased by his beloved wife Itala Marchi (2020), father Pietro Marchi , mother Rosa Marchi, sisters Valia Leschiutta and Lica Polacik, brothers Ray Marchi, Nino Marchi, and Eddie Marchi.

Dad is survived by his daughter Nadia (Reg) Neno, Rosanna (Al) Geib, Bruna (Jeff) McLaren, sister Norma Carmello, and brother Orlando Marchi. He also leaves to mourn his grandchildren Jeremy Neno (Jessica), Renae Cockx (Scott) Chris Blemings (Lindsay), Mark Blemings (Carly), Jaysen McLaren, Tanille Geib, Desiree Geib and Owen Geib. Dad also leaves behind his great grandchildren Parker Cockx, Karson Cockx, Abbie Lovelace, Riley Blemings, Reid Blemings, Davina Blemings, and Max Blemings.

The family would like to thank Dr. Ross Dawson and Dr. Michael Dawson for the many years they looked after Dad.
The family would also like to extend their thanks to the staff and Shawn Jacklin, Community Manager, at Joseph's Creek Care Village
There was a graveside service for Dad held at 11:00 am on Friday, July 22nd, 2022 at the Westlawn Cemetery followed by a reception.
Arrangements are entrusted to McPherson Funeral Services. A video of the service will be available on the McPherson website on Bruno's obituary page.

Condolences for the family can be offered at www.mcphersonfh.com
In Loving Memory of
Bruno Giordano Marchi