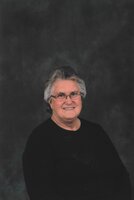 Jean Johnson
It is with sadness that we announce the passing of Jean Johnson of Cranbrook, B.C. on July 22, 2022. Jean was born on July 31, 1939 in Minnedosa, Manitoba and was married to Elgie Johnson on June 27, 1959. Shortly after their marriage they moved to the family farm south of Hyas, Saskatchewan where they farmed and lived until 2005. Jean and Elgie moved into Norquay, Saskatchewan and following the death of Elgie in 2006 Jean moved to Cranbrook, British Columbia.
Jean was a loving wife, mother, grandmother and great grandmother. She was an amazing cook who was known for her wonderful breads and rolls, cakes and cookies, and just about everything else that friends and family could enjoy around the table. Jean loved gardening, jigsaw puzzles, and watching Toronto Blue Jays games.
Jean is survived by her three sons: Kevin (Lynn), Jeff (Judy) and Larry (Roz), 7 grandchildren, 4 great grandchildren, her brother Fred (Marge), and her sister Edith (Dennis), and numerous nephews and nieces.
She is preceded in death by her husband Elgie and sisters Gwen Ericson and Doris Anderson.
A service in Jean's Memory will be held on Saturday, July 30th, 2022 at 2:00 PM at Norquay Covenant Church in Norquay Saskatchewan.