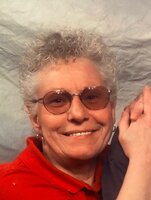 Joan Diane Wert
The family of Joan Diane Wert would like to share that Joan peacefully passed away on July 24th at the age of 80. Joan was born on February 13, 1942 and came from Red Lake, Ontario. Knowing her meant that you knew an empathetic, hard working, loving and tireless woman. Around the age of 40 she graduated as a care aide advancing into an administrative position, prior to her retirement, that enabled her to ensure quality care to the long term care residents. Upon retirement, she took up golf and continued her volunteering nature by commencing her approximately 20 years of service with the Red Cross. For a number of years, she travelled south to Arizona with her husband of 51 years and found opportunities to volunteer while down there as well. Joan loved endlessly and after losing her husband in May of 2021, she dedicated more time to friends that needed her energy, experience or support as well as to her family.
Joan leaves to mourn her children Brent (Collette) Dauphinais, Wanda (Steve) Anton, Travis (Marla) Wert, Colleen (Gordon) Holden, Dallas Wert and David Wert. Her grandchildren Ashlee, Andrew, Kyra, Jordan, Mathew, Haley, Jessica and Shanelle and great-grandson Solomon, brother Gary (Janet) Smith as well as nieces and nephews. She was predeceased by her husband Daryl, parents Earl and Teena Smith, brother Dennis Smith, and daughter Jacqueline Dauphinais.
For the sake of health and wellness in current times, we have made the difficult decision to conduct a private family service. It will be held on July 28th at 10:00 a.m. and will be available for live viewing via the McPherson Funeral Home site at the link given below. We do encourage all who knew and loved Joan to convene in smaller numbers to remember and celebrate her life when and where you find it most practical.
In lieu of flowers, donations can be made to Operation Street Angels, the Canadian Mental Health Association, or an animal related charity of your choosing.