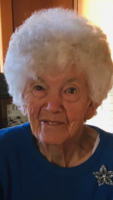 Sarah Elma Wiebe
Sarah Elma Wiebe was born in Rush Lake, Saskatchewan on November 5, 1929, to John M and Helena Neufeld. She was one of nine children. There is one remaining sibling, her brother, John Neufeld.
Elma entered into a personal relationship with her Saviour as a young teen. There had been revival meetings that she had been attending, but she did not walk the "sawdust trail" (the term used for going forward at a revival meeting). Rather she came into that relationship while she was walking alone in their farm pasture the day after one of those meetings. God proved himself faithful throughout her life and she was called into His presence on August 8, 2022.
After graduating high school, Elma applied to teacher college, but did not receive a response. She took an alternative route and applied to nurses training at Grace Hospital in Winnipeg, Manitoba, where her sister, Lydia, was already in training. She graduated as an RN in 1954. She was offered the opportunity to take one more year of training to become an instructor there, but preferred to offer TLC (tender loving care).
It was while she was working at the hospital in Swift Current, Saskatchewan, that she met Jacob Wiebe. She was the admitting nurse when he arrived having been burned while working in the oil fields. They were married in 1956.
Donald was born to them on their first wedding anniversary. In time Steven, Jacqueline, and Lowell joined the family.
They lived in Swift Current until Jacob built a house for them in Waldeck. They lived there until moving back into Swift Current when Jacob and Elma bought a shoe repair shop. He fixed shoes and she managed the administrative end of things.
With the last of the children completing school in Swift Current, they moved to Cranbrook, BC. This allowed Jacob to realize his dream of living in the mountains. Believing it would be a helpful way to root herself in this new community, Elma returned to her nursing background, but chose not to be reinstated as an RN, choosing rather to work as an aide in the extended care department of the hospital there.
Both Elma and Jacob entered their retirement years in Cranbrook. Elma carried on for a few years in Cranbrook after Jacob passed away. Then she made the decision to move into Smith Creek Village in West Kelowna so she could be close to family as Steve and Carol live in Kelowna.
Over the years the family grew with the addition of two grand-daughters to Don and Monica: Stephanie (Dean) O'Keefe and their son Jack; and Miranda (Sean) Gregoire and their children Olive and Sullivan. Steve and Carol's family include two sons: Lydell (Ann) and their children Liska, Emory, and Arza; and Nate. The family is completed with Jacquie Pierce and Lowell and his wife Jodine. The family has also grieved the losses of Debbie, Ellie, and Doug.
Elma's children rise up and call their mother blessed.