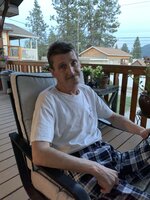 Kevin Scott Pearce
With heavy hearts we announce the passing of Kevin Scott Pearce.
Kevin was a lover of baseball, especially in his younger years. In fact, he even played in the World Series in Pennsylvania where he met Julie Eisenhower and President Nixon. Kevin was a very kind, compassionate, caring, generous and giving person. This showed in his work as a carpenter and maintenance man for individuals with mental and physical disabilities. He will be greatly missed by countless members of his family, especially his devoted wife and caregiver Christine.
Kevin was predeceased by his father Donald Pearce, his mother Anita Varga, brother Cameron Pearce, stepdaughter Melissa Kehler, brother-in-law Nelson Jones, uncle Wayne Pearce, his cousin Kevin Amy, and grandparents Norma and Fraser Douglas.
Kevin is lovingly survived by his wife Christine Pearce, stepson John Kehler, sister Karen Smith, nephew Brandon Smith (Casey), great nephews Bentley Smith and Westin Smith, niece Taylor McManus (Colin), sisters-in-law Sherry James, Cindy Paquette and her son Colten and members of the Amy family.
There will be a Service in Honour of Kevin on Friday October 7th, 2022 at 2:00pm, at Valley View Funeral Home
14644 72 Ave, Surrey, BC V3S 2E7.
Interment will take place following the service.
Memorial donations may be made to the BC Cancer Agency