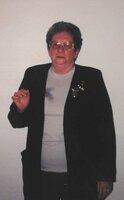 Greta Diana Blair
Greta Diana Blair, age 83 of Kimberley passed away January 23, 2023 at The Pines Special Care Home in Kimberley BC.
She was born on May 28, 1939 in Springhill, Nova Scotia.
Greta was a devoted wife and mother. She loved camping, fishing, and bowling, and was known for being a terrific gardener who loved her plants.
She was predeceased by her two sons, Jimmy, and Peter, her daughter Coleen, and by her parents Stan and Verna Whitewood.
Greta is survived by her husband James Blair, and son David, numerous grandchildren and by her brother Murray and Nancy Whitewood.