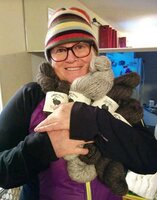 Catherine "Cathy " Conroy
Catherine "Cathy" Conroy was born on September 19, 1963, in the small town of Invermere, B.C. Cathy, passed away peacefully, surrounded by loved ones on January 21, 2023 at home in Kimberley. Cathy spent her childhood on the Westside Rd. in Invermere. She spent much of her time outdoors with neighbours and siblings playing and exploring the nature that was at her doorstep. She had an adventurous spirit and was typically fearless. This led her to pursue a career in the ski industry as well as extensive travel. Cathy eventually returned to university and gained her degree in Wildlife Biology and had many adventures in that field. She subsequently returned to university and received her teaching degree. Many children benefited from her gifted teaching abilities. Cathy left teaching to become a respected member of the Lands Sector of Ktunaxa Nation Council.
Cathy is survived by her parents Joe and Donna Conroy of Kimberley, sister Carole Conroy Chalmers of Grasmere, nieces Rebecca and Bevin Conroy, nephews Albert and Duncan Chalmers, great nephew Leon Chalmers, Daughter Amanda Clarke and granddaughters Ava Lynn and Abigal. She will be fondly remembered by her Aunts, Bertha and Anne, many cousins, innumerable and loyal friends as well as her coworkers at KNC.
Cathy fought a hard battle and lived her life to the fullest. She was an inspiration to all who know and love her and she will be dearly missed.
Cathy was predeceased by her brother, Don Conroy.
A Celebration of her life is planned for February 5th, 2023 at 12 noon. 5313 Shore Rd. Edwards Lake Tobacco Plains Indian Reservation Grasmere, BC.