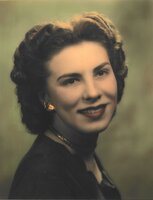 Margaret MacDonald
Margaret was born in Lethbridge and grew up in the Crowsnest Pass with father August Shvetz and brother Bill. Sadly her mother Verona died in 1933 and her father in 1952. Bill was drafted out of Coleman by the Chicago Black Hawks at age 15 in 1946 and had a career in hockey. Life in Dirty Thirties was difficult. To escape the deprivation of the coal mines in the Pass, in 1943 Margaret with her lifelong friend June Hughes had enough money to get to Cranbrook where Margaret started working at the Mt. Baker Hotel. She moved on to be a bank teller and an accountant for Cominco.
Margaret had a penchant for style and fine clothes. She was in her element when the war ended with 30 suits in her closet and a car. The Bluebird Inn was the weekend hangout with friends June, Marion Conroy and Vera Knight where she met future husband Alex. He asked her for a date. She turned him (and many others) down saying she was going to marry a man who had a university degree. This sent Alex back to high school and on to UBC. He finally got a date in 1950 and was married in 1951.
Life in mining towns (Falconbridge, Ontario and Keno Hill, The Yukon) was busy with Margaret the centre of community and social events. Moving to Vancouver in 1964 Margaret cofounded the Women in Mining BC which is still going strong.
In her travels Margaret made friends with everyone she met keeping in touch with grade school friends to new friends made when she moved back to Cranbrook in 2006. She will be missed by all.