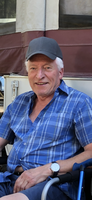 Gerd Werner Koenig
Gerd Werner Koenig, 81, of Cranbrook BC, passed away on March 1st, 2023, at Cranbrook Regional Hospital after complications with COPD and congestive heart failure.

Gerd was born in Meldorf, Germany on August 14, 1941 to parents Hans König and Anne König (nee: Schröder). He is the beloved and loving husband of Jeanne Adele Koenig. He is survived by his loving wife Jeanne of 38 years, his sister Mary, and brother Hans. He will be missed by his three daughters from his former marriage - Christine from Kelowna, and Sheila and Ute from Edmonton area, as well as his stepdaughter Connie and stepson Garry from Calgary. He is also survived by eleven grandchildren and one great-grandchild that is "on-the-way."

Gerd was educated and worked in the mining industry, eventually working his way up to the head of the purchasing department at Kaiser Resources. Later, he managed an office for Calgary and southern Alberta, in the Asbestos Abatement and Health and Safety industry until his retirement in 2005. Gerd remained known to everyone as a hard worker, remaining physically active right up until his 80s.

Gerd was a non-materialistic family man, who enjoyed spending time with his loved ones. He loved dancing with his wife Jeanne, hunting with his pal Hans, sitting by the campfire, and enjoyed his beer with friends. Gerd always had an interesting story to tell (albeit lengthy) and was genuine and direct. No one could say they didn't know where they stood with Gerd.

Gerd will be remembered as a devoted husband, a loving father, a caring brother and a proud "Opa" to his grandchildren. His memory will be cherished by all who knew him.

A celebration of Gerd's life will be announced on Facebook and held at a later date. In lieu of flowers, the family suggests donations to the Canadian Heart or Lung Association.