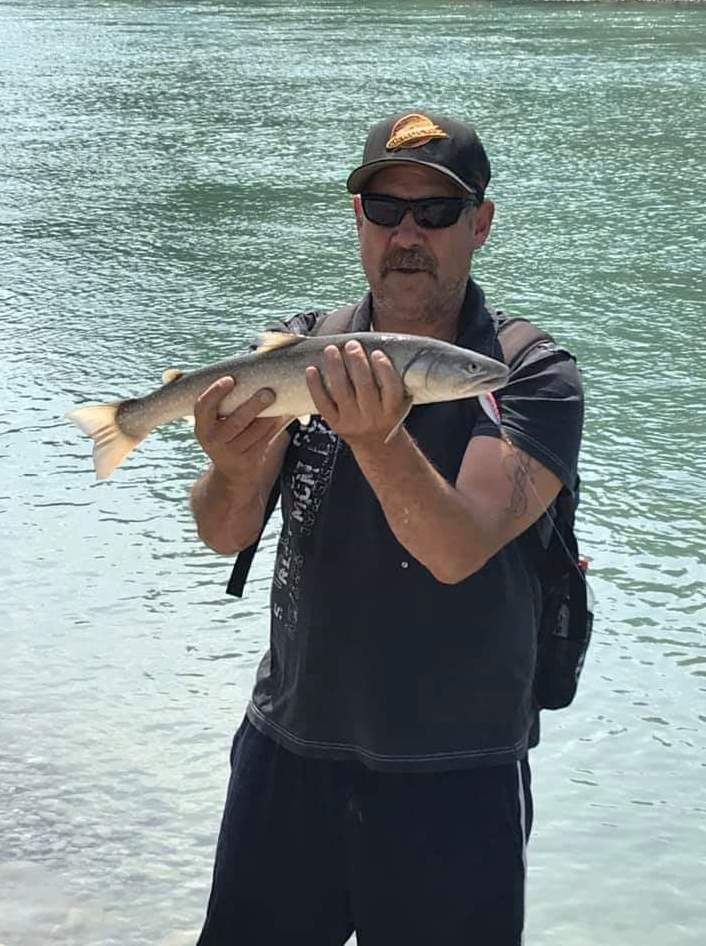 Share Your Memory of
Hans


Obituary of Hans Wayne Haugen
Hans Wayne Haugen
Born: June 20, 1965
Birthplace: North Battleford Saskatchewan
Passed: East Kootenay Regional Hospital, March 13, 2020.

It was with great sadness and heavy hearts as we lost our Brother, Husband, Father, Uncle, Grandfather, Great Grandfather & Friend. Hans Wayne Haugen lost his battle to Acute Myeloid Leukemia on Friday March 13th, 2020. From the day of his diagnosis in the summer of 2018, to date Hans fought this horrible disease. Hans was a fighter and gave his all to everything he was involved in. He will be greatly missed…until we meet again.
Hans Wayne Haugen was born in North Battleford Saskatchewan in 1965, where he lived until the family moved to Saskatoon at the age of 3. In the summer of '73 the family moved to Wardner, B.C., until 1977, once again the family moved to Jaffray, B.C., where they stayed until 1986. Hans loved sports both playing and watching. Hans was involved in local Hockey and proved to be a great player, however, he also loved playing on the high school basketball, baseball and track & field teams. Hans was one of the most caring people as he didn't have much as he found happiness in the people around him and would help out where needed even if it meant giving the shirt off his back, of which I'm sure he has done in the past.
Hans was so grateful when his favourite team the "Vancouver Canucks", provided him and his wife with tickets to watch his first live game while he was undergoing cancer treatments in Vancouver. Hans ventured from the East Kootenays to Saskatoon until he decided to make his home in Cranbrook where he lived for over 34 years. This is where he maintained many friendships and found the love of his life, wife Sharon. Together they raised his children with all their love. Hans's great enjoyments though the years have been watching his children, grandchildren and great grandchildren grow. Hans was raised on music and found his favorite genre to be Heavy Metal, with Ozzy Osborne being his ultimate favorite which he needed to be play LOUD!
Hans followed in his Father's footsteps with taking on the skills of the Stucco trade. Hans's work can be seen around the East Kootenay area & Saskatchewan. His last Stucco job was the Church on 7th avenue in the summer of 2018. Hans' greatest joy in life was fishing. He fished every chance he got, even though he didn't care to eat the fish. Hans would take his catch to his Mother as fish was her favorite food. Hans's would fish anywhere but his favorite fishing spots were St. Mary's, Bull River & anywhere he could cast a line. Hans's greatest feat was when he married his beautiful wife Sharon Ross on Sept 24, 2019; they were together for over 24 years.
Hans has such a big presence and everyone would know when he entered a room. He was filled with joy and happiness and always cracked jokes and touched so many hearts and will be greatly missed. Before Hans took his journey home he made sure to tell everyone he loved them and said his final good-byes.
Hans was by predeceased by his parents in 2020, Mother, Monica Haugen(Ballendine), Father, Hans Rupert Haugen.
Survived by his wife, Sharon Ross-Haugen, Stepdaughters, Tammy Featherling (Danny Jean), Lisa Featherling (Justin Vandenberg). Children, Coralee Haugen (Justin), Hans Jr. Haugen, Grandchildren, Sidney Tull, KelseyTull, Tristen Featherling, Alex Featherling (Peter) & Finn Haugen. Great Grandchildren, Wayne Stairs & Emmett Grieve. Sisters, Christine Stanvick, Denise Hutchinson (Lorne). Brother, Rolf Haugen (Lorilee). Neices, Mystis Stanvick (Brad Tantrum), Shandelle Hutchinson (Richard McDonald) & Alexius Bell (Jorden Lehman). Nephews, Tyler Hutchinson (Tannis Matejka), Matthew Stanvick ( Joelle McMaster), Dawson Bell & Ryker Haugen. Great Nephews, Rory Hutchinson, William McDonald & Mazeik Tantrum. Great Neices, Marrissa McDonald, Laela McDonald & Hayden Hutchinson.
The family would like to thank all the loved ones that came to visit, that called him, facetimed and the support given to him as he went through this terrible disease.

A Celebration of Life will be held when the current health issues have resolved. The family will update all.
To send flowers to the family or plant a tree in memory of Hans Haugen, please visit Tribute Store
CRANBROOK
Location

2200 - 2nd Street South
Cranbrook, BC
V1C 1E1
PHONE: (250) 426-3132


TOLL FREE:
​1-800-619-4222

FAX: (250)-426-5811
Kimberley
Location

1885 Warren Ave.
Kimberley, BC
V1A 1R9
PHONE: (250) 426-3132


TOLL FREE:
​1-800-619-4222

FAX: (250)-426-5811