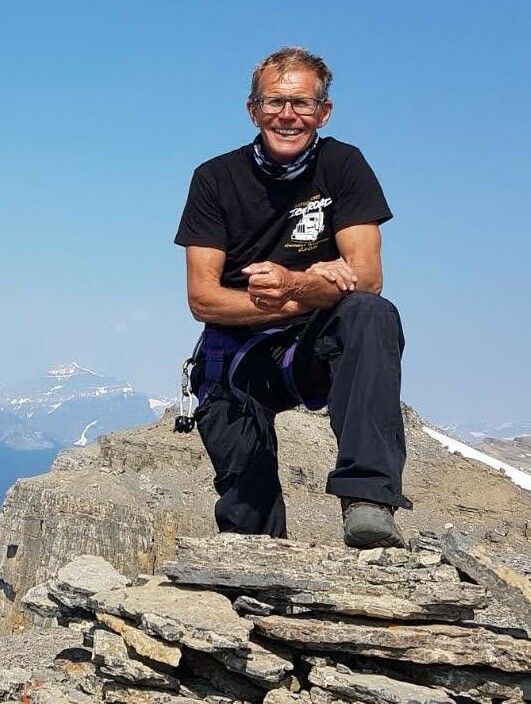 Obituary of Robert Paul Pritchard
Please share a memory of Robert to include in a keepsake book for family and friends.
Robert Paul Pritchard
December 26, 1955 – October 10, 2023
Paul Pritchard chose to extend beyond his beloved mountain tops and has started on his next journey as he passed away on Tuesday, October 10th in Invermere, British Columbia after surpassing his hardest summit. He was surrounded with the immense love of his wife and family, and was under the diligent care of the medical staff at the Invermere Hospital when he passed. He was 67 years old.
Paul is survived by his children; Kara (Jay) Der, Kristy (Trevor) Hartt, Kassie (Evan) Whitecotton and Kody (Darbi) Pritchard, wife; Charmaine Dittrick, step-children, Erin (Troy) Walker, Braydon (Crystal) Dittrick, Lindsay (Jason) Lowe, brothers; John Pritchard, Peter (Gail) Pritchard, grandchildren; Ethan, Liam, Taya (Hartt), Maverick, Forrest, Audree (Whitecotton), Penny (Der), Nika (Bernabe), Jaxon, Jameson, Julia, Jaelynn (Walker), Kayson, Tayten (Dittrick), Nixon, Adriana, Taylor (Lowe), Smith/Boutin family, Natalie Alfred (Mom) and family, Mylles (Connie) Wildeman and many cherished nieces and nephews.
He was predeceased by his beloved wife of 36 years, Cindy Pritchard (Smith), his Mom and Dad (Betty and Otis Pritchard) and Dave and Joyce Smith (Mom).
Paul was born on December 26th, 1955 in Ottawa, Ontario. He was a Christmas miracle as he wasn't given high odds of making it out of the hospital. In true Pauly P fashion, he defied the odds and chose to prove all the naysayers wrong, living a very fulfilled life full of zest and vitality for his 67 years. He always chose to see the positive in every adventure.
He grew up on the farm in Manotick, ON having many experiences and a few run ins with his daredevil side; whether it involved scaling the school roof as a young tyke, buying an orange boat to get to work at the marina before he had his license or seeing how he could jump over a car on a motorbike, Paul didn't hesitate to take an opportunity to honor his free spirit or flash his one of a kind Pauly P fab-u-lous smile! As the youngest child, with two older brothers, John and Peter, it was no surprise that Paul learned to get away with many of his escapades.
Paul chose the school of life and a path of productivity that would welcome any adventure that came his way. He left home at 17 with a desire to learn from anyone around him, as his nature for growth was genuine and pure. His dream of homesteading in Peace River is what got him to venture outside of Ontario but he was held up in Lanigan, Saskatchewan. He met a beautiful blonde who altered his path and redirected him to Alberta. Paul settled in AB in 1978, after marrying his first love, Cindy. They worked for Gerald and May Skeels before permanently settling on a quarter out by Leslieville in 1991. Paul and Cindy rooted their family in the community and became active in raising their children on the farm. He wore many hats over those years, as he drove trucks for 4W trucking, hauled propane, helped with harvesting, was an operator in oil and gas and even was an ice profiler up north where he shared a love of adventure with his fellow ice road family. Paul showed his unwavering strength and courage as he was by Cindy's side throughout her cancer journey and until her death in 2014.
Paul was blessed with finding love again after Cindy passed away. He met Charmaine in 2015 and they were married on December 9th, 2016. It was a joining of two families that started yet another leg of self discovery and one that landed them close to the mountains in Radium, B.C. The mountains became his passion and he poured his heart and soul into maintaining trails and scaling many of the mountains that they had the privilege of being surrounded by. Assiniboine, Fisher, Pidgin Spire, Mount Eisenhower and Mount Nelson were just a few of the heights he was able to reach. Radium gave his family an opportunity to see a whole new side of who he was and to share in his newest joys that he and Char shared together in their new home as retirees. They easily became engaged in the little community of Radium; hiking, gardening and sheep watching.
Paul's greatest accomplishments didn't come in the form of high accolades but in the sheer pleasure of serving his family and community. He was hardworking, welcoming, humble and shared his infectious energy with anyone who crossed his path. At times he was steadfast in his ways, yet he always shared his capacity to go above and beyond for those around him. There wasn't anything he wouldn't do to lend a hand to his family, neighbors, friends and even complete strangers. He was an amazing man who chose to enjoy the simple things; to embrace the sunshine in every adventure on his trail of life. His positive go-getter mindset, no matter the obstacle, and absolute selflessness was admirable.
Thank you doesn't seem to suffice when trying to express our heartfelt gratitude, but we want everyone to know how much we appreciate the messages, support and genuine love you have shown to our families and to our father and husband. The medical staff who cared for him along the way have our respect and admiration for their gifts in trying to help Paul out along his latest trek.
As per Paul's wishes, a come and go remembrance will be held at the family farm (Whitecotton residence) north of Leslieville. It will be an informal gathering from 1- 4 pm on Saturday, October 21st, offering a space for all to come and share stories of Paul. In order to keep the memories of Paul alive and well, we hope that you can take the time to submit your thoughts and stories by following this website: https://memoriesofpaulpritchard.fromabirdie.com/contribute
In lieu of flowers, the family requests that you make a donation to the Summit Trail Makers Society; http://www.summittrailmakers.ca/donations.html Our desire is to have a permanent bench in honor of Paul, so there is a place for those to go and remember him as they stop and pause along the way on one of his favorite trails, Assiniboine Lake. Please remember to send a note along with your donation so it is known that it is specifically for Paul's bench. Or, alternatively you could roll up your sleeves and donate your blood to the Canadian Blood Services or offer a monetary contribution to any good cause you believe in as Paul always valued giving.
Paul's friendly greetings paired with his look of intentful sincerity will always be remembered. Our hope is that you find meaning in our dad's words and that you find beauty in all the "magnificent, crazy stuff in this wonderful life".
We will leave you with a final wish from Paul; may you, "find peace and contentment with every adventure along the way and any mountain you may climb."


Share Your Memory of
Robert
CRANBROOK
Location

2200 - 2nd Street South
Cranbrook, BC
V1C 1E1
PHONE: (250) 426-3132


TOLL FREE:
​1-800-619-4222

FAX: (250)-426-5811
Kimberley
Location

1885 Warren Ave.
Kimberley, BC
V1A 1R9
PHONE: (250) 426-3132


TOLL FREE:
​1-800-619-4222

FAX: (250)-426-5811